MID GREY JACKET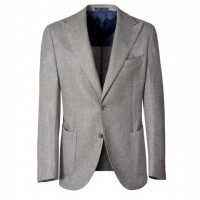 HERRINGBONE JACKET
This cashmere and wool-blend blazer is the perfect choice when you want to look casual while maintaining an overall elegant appearance. Wear it with a white shirt and a pair of blue cotton trousers for a smart casual attire.
Blue cotton trousers
The soft and warm touch of an heavy cotton pair of tailored trousers. To live the fall winter season in style.
Other styles